iPhone bandwidth: orders of magnitude – 2009
17 Nov 2009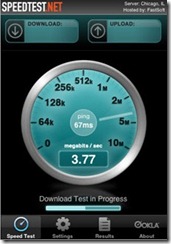 I did a bandwidth test the other day with the iPhone SpeedTest tool. I wanted to compare the speed using (standard) GPRS, using 3G and my own Wi-Fi. The results were all a power of ten apart:
iPhone on Proximus GPRS: 35 kbps (download & upload)
iPhone on Proximus 3G: 350 kbps (download & upload)
iPhone via Wifi: 3500 kbps (download – upload is +- 300 kbps)
The real reason is that I wanted to see how fast I would wear out my Proximus data plan (200MB per month). The answer: with GPRS I would need more than 12 hours of continuous downloading, with 3G I could do it in less than 2 hours. So GPRS is pretty safe, it's also easier on your battery, but you have to live with slow, pre-1996 modem-like performance. The latency – the time it takes to get your first byte after requesting a URL –  is easily 10 to 50 seconds. Not milliseconds, seconds!
As a side note: do not take a time-based data subscription, certainly not with the iPhone. My first post-iPhone Proximus invoice was 800,- euro, which is more than the price of my iPhone! When I contacted them about that, they immediately offered to reimburse it and advised me to switch to a size-based plan. I guess I was not the first one …